Exhibitions Schedule 2023
*No advance reservation is required. However, we may ask guests to wait at the entrance depending on the crowd condition inside the museum.
Early Spring Exhibition 2023
Superb Swords of the Hosokawa Family

– the National Treasures on display
Period

Saturday, January 14-Sunday, May 7, 2023

Closed

Mondays

Opening hours

10:00am to 4:30pm (last entry 4:00pm)
Online reservations are available from Thursday, 1st December at 10:00.
Visitors to the exhibition are required to book date/time slot tickets online in advance as admissions are limited to avoid overcrowding. Even if you are eligible for free admission as a supporting member of our museum, you still have to make a reservation online. We will only admit visitors without prior reservation if capacity allows.

*Reservations by phone are not accepted.
*Please make reservations via the following link.


Hosokawa Moritatsu (1883-1970), the founder of Eisei Bunko Museum, was an eminent connoisseur of Zen art, modern paintings, Oriental art, and swords. He actively began to collect swords while he was still in his teens. While Moritatsu was taking a long absence from Gakushuin Junior High School due to pleurisy, he studied swords and cultivated his aesthetic sense by carrying out extensive researches with Nishigaki Shirosaku, a descendent of a metalworking family in Higo, who took care of the swords in the Hosokawa family collection as "Okatanagakari", and sword connoisseurs who were working for the family as administrative staff.
This exhibition features all the four National Treasure swords from the Hosokawa collection for the first time in eight years. Other fine swords collected by Moritatsu such as "Long Sword Signed 'By Kanesada of Seki, Mino Province'" (Kasen Kanesada) and their historical episodes will be on display together with elaborate works of sword fittings such as sword guards produced in Higo.


Early Summer Exhibition
Tea Ceremony Utensils from the Hosokawa Family Collection:

Sen no Rikyu and Hosokawa Sansai
Period

Saturday, May 20 – Monday, July 17 (National holiday), 2023

Closed

Mondays except July 17, 2023

Opening hours

10:00am to 4:30pm (last entry 4:00pm)

Organized by

Eisei Bunko Museum
With the special assistance of Hotel Chinzanso Tokyo
Sen no Rikyu (1522-1591), who attained the perfection of Wabi-cha style, had a large circle of acquaintances among the warlords as an instructor in tea ceremony. The Hosokawa family developed close ties with Rikyu since the days of the first head of the family, Fujitaka (Yusai, 1534-1610), and the second head, Tadaoki (Sansai, 1563-1645), inherited Rikyu's wabi-cha style as one of his seven leading pupils (Rikyu Shichitetsu). Since subsequent heads of the Hosokawa family continued to enjoy the tea ceremony, a large number of tea utensils were passed on down to form the museum collection.
This exhibition presents notable works associated with Sen no Rikyu and Hosokawa Sansai such as "Chinese Tea Caddy of Bulging Base Type (Rikyu Shirifukura)" that belonged to Rikyu and "Gourd Flower Vase known as 'Gankai'" with other tea utensils owned by the successive heads of the family. We also introduce the works created by the latest four generations of the Hosokawa family (16th head Moritatsu, 17th head Morisada, the present head Morihiro, and Morimitsu) which indicate that a sense of aesthetics have been passed down through the family line.
As the special features of the exhibition, the valuable letters written by a warrior tea master, Furuta Oribe (1544-1615), addressed to Hosokawa Sansai, which were discovered in 2021 are on display together with the calligraphic works by Takuan Soho (1573-1645) who had close connections with the Hosokawa family and who celebrates his 450th birthday this year.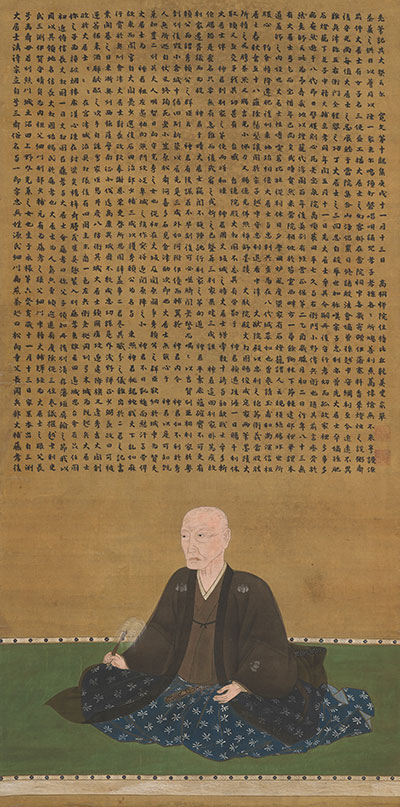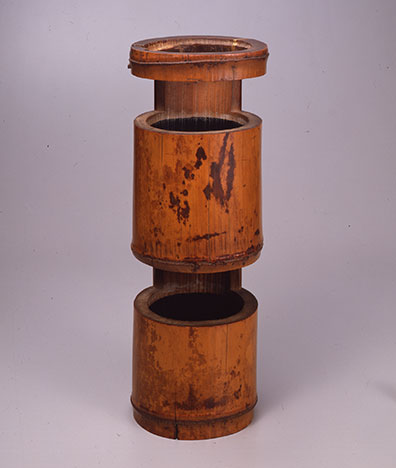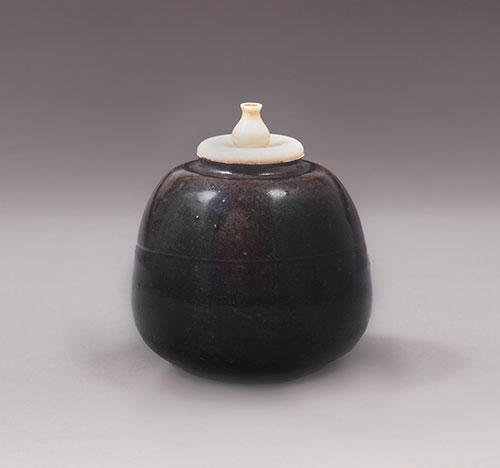 Summer Exhibition
Painters loved by Marquis Hosokawa Moritatsu:

Paul Cézanne, Umehara Ryuzaburo, and Yasui Sotaro
Period

Saturday, July 29 – Sunday, September 24, 2023

Closed

Mondays except September 18, 2023
Closed on September 19, 2023

Opening hours

10:00am to 4:30pm (last entry 4:00pm)
"Shirakaba (White Birch)" was a literary magazine first published by Mushakoji Saneatsu and Shiga Naoya, who were the classmate of Hosokawa Moritatsu (1883-1970), the founder of Eisei Bunko Museum. Having kept company together during their school years at Gakushuin, Moritatsu supported the activity of the "Shirakaba" group financially. "Uphill Road" by Cézanne (1839-1906) was first mentioned in "Shirakaba", and was later purchased by Moritatsu in 1926 during his stay in Europe. This small watercolor painted by Cézanne at the age of 28 is one of his earliest works painted before the first Impressionist Exhibition held in 1874. It is regarded as an early Cézanne painting introduced to Japan, and we are pleased to have a rare opportunity to display this work in the exhibition.
Hosokawa Moritatsu had interactions with painters such as Umehara Ryuzaburo (1888-1986) and Yasui Sotaro (1888-1955) exchanging hundreds of letters with them. This exhibition features selected yoga paintings (Western style paintings) which were added to the collection through the good relationship between Moritatsu and the artists.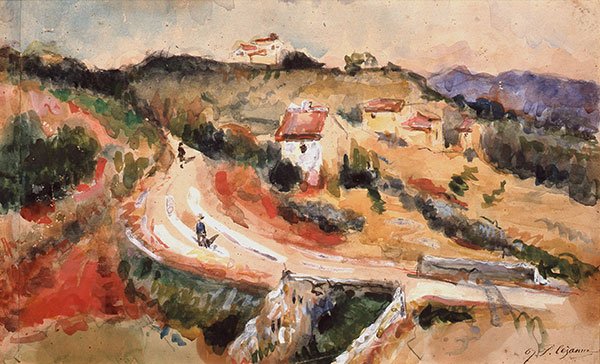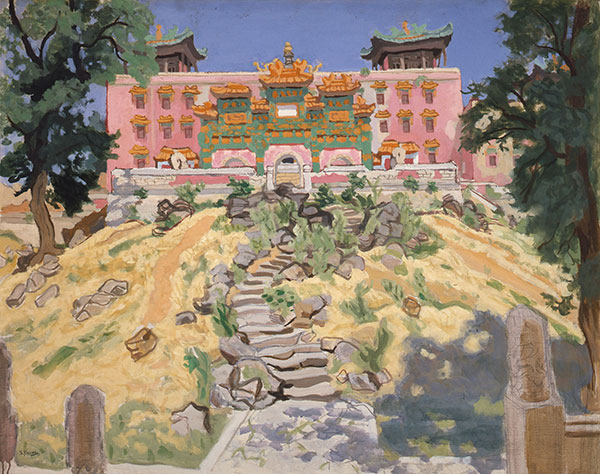 Autumn Exhibition
Whole Story of the Hidden Treasure "Haseo Zoshi":

Picture scroll collection of Eisei Bunko Museum (TBD)
Period

Saturday, October 7 – Sunday, December 3, 2023

Closed

Mondays except October 9, 2023
Closed on October 10, 2023

Opening hours

10:00am to 4:30pm (last entry 4:00pm)
"Haseo zoshi" (14th century, Kamakura-Nanbokucho period) is a picture scroll depicting mysterious stories attributed to Ki no Haseo, a scholar of Chinese classics in the Heian period. This volume used to belong to the collection of the Shogun family, but had long been lost during the turbulent history of Meiji Restoration at the end of the Edo period. In the Showa period, Hosokawa Moritatsu (1883-1970), the founder of Eisei Bunko Museum, added it to his collection.
In the story, Haseo played a sugoroku game (a Japanese style board game) for a beautiful woman with an ogre at the Suzaku-mon Gate and he won. On acquiring the woman from the ogre, Haseo was told not to touch her for 100 days. However, he broke the promise, and when he touched the woman, her body collapsed and turned into water to disappear. In the picture, the sound of throwing dices is visualized using lines, which technique is common to the methods in contemporary manga or anime. With a simple story and a small format consisting of only five chapters, "Haseo zoshi" has been recognized as an important material that indicates the origin of "Otogi zoshi", illustrated folk tales which became popular in Muromachi period and later.
Eisei Bunko Museum houses various other picture scrolls such as the reproduction of "Moko Shurai Ekotoba (Mongol Invasion Scroll)". The original work which is designated a National Treasure now belongs to the Museum of the Imperial Collections, but it used to belong to the Oyano family, one of the feudal retainer lineages of the Kumamoto Clan. We are pleased to introduce the flowing story world of picture scrolls of the Hosokawa collection which we rarely have had the opportunity to display in our exhibitions.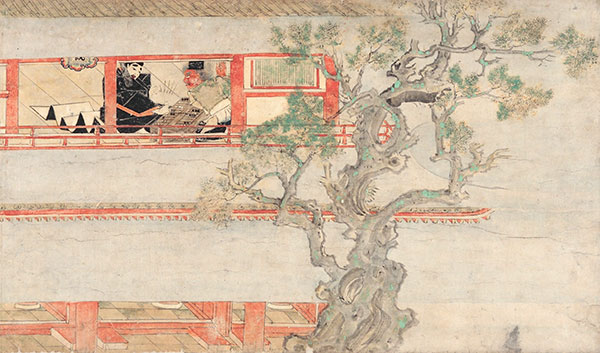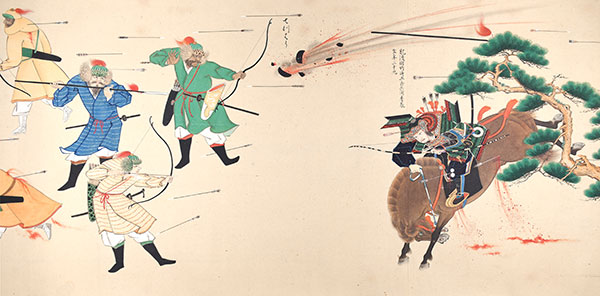 Early Spring Exhibition
Colors in Chinese Ceramics:

Two-thousand-year history of ceramic colors (TBD)
Period

Saturday, January 13 – Sunday, March 3, 2024

Closed

Mondays except February 12, 2024
Closed on February 13, 2024

Opening hours

10:00am to 4:30pm (last entry 4:00pm)
Eisei Bunko Museum holds a collection of more than a hundred Chinese ceramic works from the Han to the Qing dynasties, through which we can trace the two-thousand-year history of Chinese ceramics. The collection can be divided into two groups: ceramics collected by Hosokawa Moritatsu (1883-1970), the founder of Eisei Bunko Museum, and those which had been handed down through the generations of the Hosokawa lord family. Recognizing the growing popularity of Chinese ceramics, Moritatsu started to collect ceramic works from the perspective of art appreciation, and is regarded as a pioneer of collecting decorative ceramics. Painters of his generation also showed much interest in Chinese ceramics and they not only collected them but also used them as motifs of their paintings.
This exhibition features the fine Chinese ceramic works mainly from Moritatsu's collection including three Important Cultural Properties. We classified the exhibits by color such as white porcelain, celadon porcelain, underglaze blue, and overglaze enamels aiming to provide the visitors with an overview of the history of the Chinese ceramics. "Beauty of the Tang dynasty", which Umehara Ryuzaburo (1888-1986) painted inspired by the "Painted Pottery Female Figure", will also be on display with its related documents.